Internationally known artist, technologist and co-founder of the Graffiti Research Lab, James Powderly, was detained in Beijing on tuesday early morning while preparing to debut a new work and technology of protest, the L.A.S.E.R. Stencil. According to a "twitter" message received today by Students for a Free Tibet at approximately 5 pm Beijing Standard Time, Powderly had been detained by Chinese authorities at 3 am. His current whereabouts remain unknown.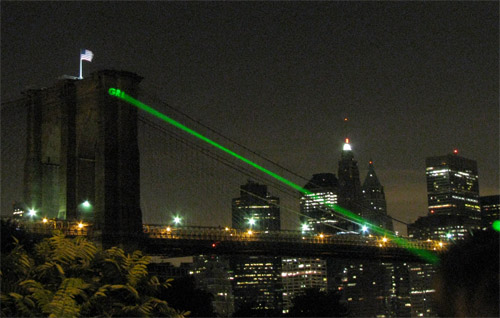 The work, "The Green Chinese Lantern," uses a 400 milliwatt handheld green laser with micro-stencils to beam simple messages and images up to three stories high on surfaces such as billboards, buildings, and bridges. The Laser Stencil technology was developed in conjunction with Students for a Free Tibet.
Before that, Powderly and other members of the Graffiti Research Lab were dis-invited from Synthetic Times, a new media art exhibition at Beijing's National Media Art Museum of China, due to their uncompromising stance on freedom of expression.
James is proud to have been kicked out of the Synthetic Times new media art exhibition in Beijing because he wouldn't censor his little art project. James wonders why organizations like the MoMA, Parsons, Eyebeam, Ars Electronica and many other arts and cultural institutions around the world who claim to support free speech and expression would participate in a show like this. But they did! It was after being kicked to the curb by the show's curator that James connected with Students for a Free Tibet and decided he would go to China anyway and do what he though was right in support of Tibet, Taiwan, free speech and the people of China. James lives, if indeed he is alive, in the County of Kings, Brooklyn, and teaches at the Communication Design and Technology program at Parsons the New School for Design. I am James Powderly and I approve of this message.
From freetibet2008.org, Photos on Flickr
Beijing: Activists detained after lighting up "Free Tibet" LED Throwies banner near Olympics site from Students for a Free Tibet on Vimeo.
Also yesterday, five activists with Students for a Free Tibet were detained after displaying a banner that spelled out "Free Tibet" in LED Throwies, the open source technology pioneered by the Grafitti Research Lab and popularized online and worldwide. This brings the number of Students for a Free Tibet (SFT) protestors detained in Beijing to 42.