Interactivos?'08: Vision Play event will take place from May 30 to June 14, 2008. This seminar-workshop will be directed by Alvaro Cassinelli and Simone Jones, with the participation of Daniel Canogar, Pablo Valbuena and Julian Oliver. Besides the two-week workshop, seminars, lectures and miniworkshops will also be held by Nuria Valverde, James Elkins, Susana Martínez-Conde, José Luis Brea and Jimena Canales.
I was invited to take part in the workshop, so i booked the flights and here i am! The workshop will start tomorrow in the Medialab-Prado and i will take chance to finally use tagr.tv as a workshop documentation plattform and try to spam the blog with an everyday update of the workshop.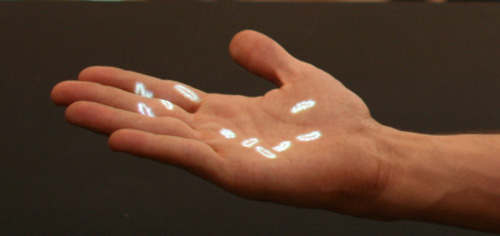 Examples for projects that had been realized during recent Interaktivos? workshops are for example Chris Sugrue's Delicate Boundaries or Pablo Valbuena's AugmentedSculpture which i think was one of the most thrilling works exhibited at the Ars Elektronica 2007.